RN Case Manager - ProMedica Medical Management - Full Time - Days
Toledo, Ohio
Overview
The Registered Nurse provides nursing care to individuals and groups which require specialized knowledge, judgment, and skill derived from the principles of biological, physical, behavioral, social, spiritual/cultural, and nursing sciences. The Registered Nurse functions within the full scope of nursing practice as noted by the Board of Nursing of their designated state for which they are practicing in addition to compliance with any of the hospitals accrediting bodies.
Success Profile
Who is the ideal Promedica employee? We're looking for people to join our team who are motivated by making an impact and doing meaningful work.
Responsible 10
Critical thinker 9
Compassionate 9
Communicator 9
Adaptable 9
Multi-tasker 8
Traits are on a scale of
0
to
10
Additional success profiles:
Detail oriented,
Flexible,
Helpful,
Patient,
Responsible,
Sincere,
Understanding
Benefits
Professional
Growth

Retirement &
Savings Plan

Innovative
Training Programs

Tuition Assistance

Career Stability

Comprehensive Health
Coverage
Job Requirements
ProMedica's health plan, Paramount Insurance, offers health insurance products across six Midwest states. Paramount is an Ohio-based health insurance company, headquartered in Toledo. The organization has more than 800 employees dedicated to serving their health plan members.
Paramount offers Medicare Advantage and Marketplace Exchange health plans for individuals and families. Paramount maintains accreditation by the National Committee for Quality Assurance (NCQA) for their HMO and Medicare Advantage products.
In addition, Paramount has a full complement of insurance products for employers of any size, including medical, dental, vision and workers' compensation, as well as vocational rehabilitation, life-care planning and wellness.
As a part of ProMedica, Paramount is driven by ProMedica's mission to improve your health and well-being. ProMedica has been nationally recognized for its advocacy programs and efforts to address social determinants of health. Paramount strives to provide an exceptional experience to every member. For more information about Paramount, please visit our website. http://www.paramounthealthcare.com.
ACCOUNTABILITY OBJECTIVE:    
Assesses, plans, implements, coordinates, monitors and evaluates the ongoing care of a specific caseload through the Continuum of Care; collaborates with members of the health care team, members and their families to ensure effective, efficient and appropriate care during the entire episode of illness and for post-discharge services.  Monitors utilization and evaluates outcomes.  
NATURE & SCOPE:</strong>
This position reports directly to the Team Leader.  No positions report to this position.
PRINCIPAL ACCOUNTABILITIES: 
1.    Assess identified "Commercial" members to determine case management needs by trigger diagnoses, disease management needs, high dollar cost, complex medical conditions, readmissions or excessive length of stay. Conduct appropriate assessment based on member needs which includes member, caregiver and provider input.  Assess the member's functional status, decision-making ability, and psycho-social needs. Enter identified members into Case Management with provider and member consultation.     
2.    Planning:  Plan an individualized care plan developed in conjunction with the member, provider, health care team and other persons involved in the member's care.    The plan should address the member's health care needs identified in the assessment process.     Community resources, psycho-social needs and end of life care are included in the plan of care.
3.    Implementation and Coordination: Coordinate current treatment plans with the PCP and maximize benefits through in-Plan provider utilization.    Utilize cost benefit analysis. Ensure communication of goals with all health care team members. Coordinate psychological care with in-Plan providers and with Behavioral Health Case Management coordinators. 
4.    Monitoring and Evaluation: Review the member's progress and conduct periodic reassessment of the care plan based on changing member needs.  Evaluate, initiate and coordinate case management members' potential discharge planning and follow-up needs. Evaluate and manage resources and optimize reimbursement to ensure that members receive the most appropriate medical care in the most cost-effective setting.  
5.    Communication: Provide members and families with ongoing, current information and support to enhance satisfaction throughout the continuum of care. Facilitate communication among members of the health care team.  Ensure privacy and confidentiality under current federal regulations. Adherence to ethical, legal and accreditation/regulatory standards. 
6.    Documentation:   Documentation follows current Paramount   procedures.  Has good knowledge of the member's coverage, exclusions and insurance guidelines for appropriate system documentation.  Demonstrates good skills in the required paper and electronic systems.
7.         General:  Act as a member advocate, maintain and ensure member privacy and       confidentiality, adhere to ethical, legal and accreditation/regulatory standards for all Case Management activities/interventions. While most case management interaction is telephonic through out the case management process as defined above, multidisciplinary face to face meetings with members and providers may be beneficial and necessary to effectively coordinate the member's treatment plan of care.  Must have the ability to travel and make face to face visits with members.
8.    Outcomes:  Individual case managers will be audited to determine if Interventions are goal oriented. In addition, outcomes will be measured including member satisfaction, clinical, financial and quality of life.   Productivity measures must be met     and compliance will be reflected on the annual performance evaluation.
9    Perform other duties as directed.
•    Current Ohio and Michigan Registered Nurse license required or current Ohio and Michigan license for LSW, LISW, PhD and/or other equivalent and appropriate licensure.
•    Valid drivers license with proof of auto insurance. 
•    Certification in Case Management strongly preferred.  If not certified, willingness to obtain certification when eligible and appropriate as deemed by manager.
•    Minimum 1 year experience as a Case Management Coordinator or as a Utilization Management Coordinator.  Excellent communication (oral and written) and organizational skills required. Demonstrated ability to plan, coordinate and organize multiple priorities.
•    Demonstrated PC skills, including word processing/spreadsheet/data base and graphics applications strongly preferred.  Experience with electronic health record documentation.
•    Ability to move between company work stations and departments; ability to communicate on telephones and operate general office equipment, including computers.
 
ProMedica is a mission-based, not-for-profit integrated healthcare organization headquartered in Toledo, Ohio.  For more information, please visit www.promedica.org/about-promedica
Qualified applicants will receive consideration for employment without regard to race, color, national origin, ancestry, religion, sex/gender (including pregnancy), sexual orientation, gender identity or gender expression, age, physical or mental disability, military or protected veteran status, citizenship, familial or marital status, genetics, or any other legally protected category. In compliance with the Americans with Disabilities Act Amendment Act (ADAAA), if you have a disability and would like to request an accommodation in order to apply for a job with ProMedica, please contact employment@promedica.org
Equal Opportunity Employer/Drug-Free Workplace
Job ID 65770 Date posted 06/17/2022
Apply Now
Apply Later
Trending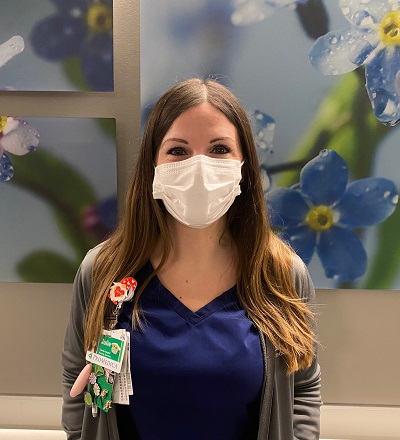 I joined ProMedica in 2014, right after I finished nursing school. I've always wanted to become a nurse, I enjoy the feeling of making people feel safe and caring for them. Nursing is about being there for someone when they feel alone and holding their hand when they are scared. It was easy to choose PROMEDICA due to the residency program that I heard wonderful things about. The residency helped guide me into becoming a confident nurse. I started on the orthopedic floor where I have learned so much from my wonderful work family! I've done many different things within the hospital setting, such as becoming an EPIC superuser where I even went in Coldwater to help with their go-live. I was part of the skin team, served on a Nursing grand rounds forum. In July I was crossed trained to the Adult ICU, it was something I thought would be a wonderful experience, I've meet a great group of people that I enjoyed training and working with when needed. ~Julie
Recently
Viewed Jobs
You haven't viewed any jobs recently
My Saved Jobs
You have no saved jobs.