RN / Registered Nurse - Telehealth - Home Care - Contingent - Days
Sylvania, Ohio
Overview
The Registered Nurse provides nursing care to individuals and groups which require specialized knowledge, judgment, and skill derived from the principles of biological, physical, behavioral, social, spiritual/cultural, and nursing sciences. The Registered Nurse functions within the full scope of nursing practice as noted by the Board of Nursing of their designated state for which they are practicing in addition to compliance with any of the hospitals accrediting bodies.
Success Profile
Who is the ideal Promedica employee? We're looking for people to join our team who are motivated by making an impact and doing meaningful work.
Responsible 10
Critical thinker 9
Compassionate 9
Communicator 9
Adaptable 9
Multi-tasker 8
Traits are on a scale of
0
to
10
Additional success profiles:
Detail oriented,
Flexible,
Helpful,
Patient,
Responsible,
Sincere,
Understanding
Benefits
Professional
Growth

Retirement &
Savings Plan

Innovative
Training Programs

Tuition Assistance

Career Stability

Comprehensive Health
Coverage
Job Requirements
For patients of ProMedica Home Health Care, delivers and manages the coordination of nursing services via telephone, internet, video, and remote monitoring.
ACCOUNTABILITIES
1. Telehealth Nursing: Receives patients from PHHC intake team and other referral sources. In coordination with field nurse, assesses patients' appropriateness for telehealth-specific components of plan of care. Connects with patient and patient caregivers to deploy remote monitoring equipment. Continually reviews daily vital signs, weights, and surveys. Analyzes data and uses structured interviewing techniques to determine further interventions or plans of care. Displays critical thinking and organizational skills to meet customer needs and provide safe, high-quality care, as evidenced by comprehensive assessment skills and utilization of clinically appropriate guidelines.
2. Service Authorization: Reports changes in the patient's condition and plan of care to the physician or provider, in accordance with regulatory guidelines and patient needs. Uses electronic medical record reports and telehealth vendor to identify patient events throughout the episode. Relays changes in patient's condition to appropriate patient care team members. Obtains orders from the physician or provider for prn visits as needed.
3. Disease and Case Management: Utilizes the nursing process as a framework for the delivery of care to improve patient outcomes.  In collaboration with the skilled care coordinator, identifies high-volume and problem-prone patients within the caseload and documents efforts made with each involved discipline to reduce risks. Obtains patient care verbal orders and from the provider and transcribes timely.
4. Customer Service: Provides patient, family, and caregiver education. Interacts with skilled care coordination, field staff, intake, and other PHHC and patient care team members in responsive and professional fashion to facilitate the provision of timely, appropriate care. Communicates effectively via all media and is courteous to external and internal customers. Introduces self to customers and elicits information in pleasant and reassuring manner. Accurately documents calls received and responses given in the clinical record. Recognizes and initiates appropriate action in critical situations. Demonstrates organizational skills to effectively manage patient caseload.
5. Professional Development: Pursues educational opportunities to enhance competencies, knowledge base and skills. Provides support to new employees, answers questions appropriately. Networks with other professionals in post-acute care. Demonstrates appropriate identified clinical and age-specific competencies for professional job performance, at least annually. Attends professional in-services to acquire at least the minimum required CEU's annually. Complies with OSHA regulations and safety requirements and attends required in-service annually inclusive of CPR. Complies with agency and regulatory infection control standards and practices. Participates in unit meetings and taskforce activities.
6. Innovation and Process Improvement: In cooperation with PHHC leadership, participates in opportunities for collaboration with other post-acute care services. Identifies inefficiencies or areas of potential improvement within telehealth processes.
7.  Other duties as assigned or directed.
REQUIRED QUALIFICATIONS
Education: RN-ADN from accredited nursing program
Skills: High-level nursing assessment skills. Effective verbal and written communication skills with both patients and clinical professionals. Strong organization, problem-solving, customer service, and critical thinking skills. Able to input, export, and analyze patient-care EMR data.
Years of Experience: 3 years' RN-level  nursing experience in acute care or home care settings
License: RN, Ohio and Michigan; able to timely obtain license from both states if not dual-state licensed
Certification: BLS
PREFERRED QUALIFICATIONS
Education: RN-BSN
ADDITIONAL EXPERIENCE
Previous stepdown & or critical care experience required.</span>
WORKING CONDITIONS
Physical Demands: Office environment. Must be able to input and retrieve information from a computer. Must be able to use telehealth equipment and communicate clearly with patients. Must be able to sit and stand for prolonged periods. Must be able to move between workstations.
Requires Weekend Rotation
The above list of accountabilities is intended to describe the general nature and level of work performed by the incumbent; it should not be considered exhaustive.
Qualified applicants will receive consideration for employment without regard to race, color, national origin, ancestry, religion, sex, pregnancy, sexual orientation, gender identity or gender expression,  age, disability, military or veteran status, height, weight, familial or marital status, or genetics.
Equal Opportunity Employer/Drug-Free Workplace
Job ID 70741 Date posted 11/15/2022
Apply Now
Apply Later
Trending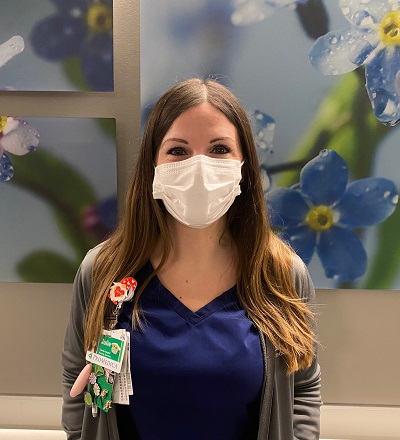 I joined ProMedica in 2014, right after I finished nursing school. I've always wanted to become a nurse, I enjoy the feeling of making people feel safe and caring for them. Nursing is about being there for someone when they feel alone and holding their hand when they are scared. It was easy to choose PROMEDICA due to the residency program that I heard wonderful things about. The residency helped guide me into becoming a confident nurse. I started on the orthopedic floor where I have learned so much from my wonderful work family! I've done many different things within the hospital setting, such as becoming an EPIC superuser where I even went in Coldwater to help with their go-live. I was part of the skin team, served on a Nursing grand rounds forum. In July I was crossed trained to the Adult ICU, it was something I thought would be a wonderful experience, I've meet a great group of people that I enjoyed training and working with when needed. ~Julie
Recently
Viewed Jobs
You haven't viewed any jobs recently
My Saved Jobs
You have no saved jobs.