RN / Registered Nurse - Patient Care Supervisor - Rehabilitation - Full Time - Days
Sylvania, Ohio
Overview
The Registered Nurse provides nursing care to individuals and groups which require specialized knowledge, judgment, and skill derived from the principles of biological, physical, behavioral, social, spiritual/cultural, and nursing sciences. The Registered Nurse functions within the full scope of nursing practice as noted by the Board of Nursing of their designated state for which they are practicing in addition to compliance with any of the hospitals accrediting bodies.
Success Profile
Who is the ideal Promedica employee? We're looking for people to join our team who are motivated by making an impact and doing meaningful work.
Responsible 10
Critical thinker 9
Compassionate 9
Communicator 9
Adaptable 9
Multi-tasker 8
Traits are on a scale of
0
to
10
Additional success profiles:
Detail oriented,
Flexible,
Helpful,
Patient,
Responsible,
Sincere,
Understanding
Benefits
Professional
Growth

Retirement &
Savings Plan

Innovative
Training Programs

Tuition Assistance

Career Stability

Comprehensive Health
Coverage
Job Requirements
ProMedica Flower Hospital is located in Sylvania OH, a suburb of Toledo, OH.  Among being located in one of the area's most beautiful landscapes, Sylvania offers a high-quality lifestyle for its residents with Sylvania's public school as one of the finest in the region, rated as "Excellent" by the state of Ohio. There are many outdoor activities to enjoy at our nationally recognized Pacesetter Park, along with music and entertainment found at Centennial Terrace and Downtown Sylvania, and the LPGA annual tournament.  The Flower Hospital campus is a 311-bed facility that houses the Hickman Cancer Center, ER Trauma Center, and is the regional leader for inpatient adult psychiatric services.  The campus includes, the Goerlich Center, which provides residence for patients with Alzheimer's and Dementia, along with the Ebeid Center our hospice facility.
General Summary:
Assists with the primary functions of a professional nurse leader in assessing, planning, directing, implementing, and evaluating patient care on a 24 hour basis.  Is responsible for ensuring continuity of care with other shifts.  Is responsible for meeting the Joint Commission Standards, compliance to Department Standards of Care and Practice, for managing all assigned personnel, supplies, and equipment in the unit, and for promoting teamwork with physicians and personnel of other departments.
Principle Duties and Responsibilities:
Assessment
Serves as a role model in the clinical area.  Assesses unit activity, needs and concerns, EOC department rounds. (i.e.: obtains report from nursing staff, patient rounds).
Assess the delivery of nursing care ensuring that the patient's identified at the time of the patient's initial history and physical assessment and appropriate action is taken in accordance with age specific, life cycle and developmental needs.
Assists in identifying any special needs in the delivery of nursing care (i.e.: teaching needs, complications of disease process, etc.) and evaluate any need for Improvements.
Makes rounds at least daily in order to assess needs of patients/families.
Assesses patient acuity levels, nurse patient ratio, and need for adjustments.
Planning
Assists staff in planning/prioritizing patient care.
Promotes/participates in patient care conferences as needs arise.
Oversees monthly and daily staffing schedule.
Serves as a liaison with physicians and ancillary departments.
Assists in assuring effective learning experiences for affiliating students.
Assists staff in problem solving.
Implementation
Maintains Nursing Practice Standards as outlined in the Staff Nurse Job Description
Maintains clinical nursing skills according to Nursing Practice Standards.
Serves as a clinical resource for personnel in technical as well as professional matters.
Serves as a liaison between physicians and patient care teams when needed.
Assists staff in maintaining calm, reassuring and effective communication with each patient and family.
Is familiar with unit and hospital policy and procedures; assists staff in complying with such evaluation
Assesses patient/family response to nursing care
Participates in evaluation of interdisciplinary clinical approach.
Collaborates with staff on ways to solve problems and to make improvements in the delivery of care.
Participates and contributes to departmental Quality Assurance.
Assists in assessing the clinical skills and knowledge of staff and communicating such to the Clinical Manager for appropriate action.
Participates in current/retrospective evaluations of patient care in conjunction with quality improvement programs, utilizing results to improve patient care.
Assists in reviewing, revising, and developing policies and procedures for the unit.
Management of Clinical Resources:
Fulfills management responsibilities that are congruent with the philosophy of Flower
Hospital.
Shares call with Clinical Manager and relays pertinent information on unit events as   they occur.
Directs, supervises, and participates in implementing planned changes related to nursing needs.
Assesses the number and level of personnel needed to provide patient care; adjusts staffing with the appropriate supervisor, and assures resolution of staffing problems.
Participates in interviews.
Ensures that personnel demonstrate continued knowledge of location, care, and operation of the unit equipment.
Assists staff in identifying areas of strength, areas of growth and methods to address identified performance needs.
Contributes to the performance appraisals of nursing unit personnel, utilizing timely, objective data.
Provides and documents ongoing factual feedback to staff regarding performance, including areas of strength and areas of growth.
 Complies with hospital policies and procedures.
Through coaching and facilitation, assists staff nurses in developing professional practice skills to assume greater accountability for continuity and quality care.
Assists with development, review and revision of policies and procedures for the unit.
Serves on hospital and/or departmental committees, as requested.
Collaborates with other Unit and Charge nurses to meet departmental needs.
 Contributes to presentation of staff meeting monthly; compiles minutes for reference.
 Attends and participates in division and management council meeting as needed.
Assists with enforcement of disciplinary actions in accordance with hospital policy.
Utilizes a working knowledge of budget variables in meeting patient care needs.
Available for consultation to both unit and supervisory personnel.
Maintains open line of communication with the Clinical Manager.  Keeps her/him informed on reportable situations, nursing unit needs and solutions.
Collaborates with faculty of affiliating nursing education programs to assure cordial and effective learning experiences for student nurses.
Assumes responsibility and accountability for personal and professional development.
Sets self-objectives annually, and implements activities necessary to meet these objectives.
Holds self and staff accountable for the delivery of quality nursing care.
Promotes professionalism among the health care team.
Attends in-service education programs for professional development.
Limits use of sick time.
Utilizes appropriate verbal and written communication skills in all aspects of job performance.
Involvement in community specialty and/or professional groups is encouraged.
Acts as liaison to promote professional relationships with ancillary department.
Serves as professional role model for unit personnel.
Makes environmental rounds.
Demonstrates effective preceptor skills.
Unit Specific Activities as delegated by Clinical Manager.
Skills Required: Previous nursing management experiences preferred.
Minimum Level of Preparation and Training Normally Required for the Job: 
Graduate from an accredited school of nursing with current licensure as a registered nurse in the State of Ohio.
At least 3-5 years clinical experience required and BSN preferred.
Previous nursing management experience and specialty certification preferred.
ProMedica is a mission-based, not-for-profit health and well-being organization headquartered in Toledo, Ohio. It serves communities in 28 states. The organization offers acute and ambulatory care, an insurance company with a dental plan, and post-acute and academic business lines. The organization has more than 49,000 employees, 12 hospitals, 2,500+ physicians and advanced practice providers with privileges, 1,000+ healthcare providers employed by ProMedica Physicians, a health plan, and 330+ assisted living facilities, skilled nursing and rehabilitation centers, memory care communities, and hospice and home health care agencies. Driven by its Mission to improve your health and well-being, ProMedica has been nationally recognized for its advocacy programs and efforts to address social determinants of health. For more information about ProMedica, please visit www.promedica.org/aboutus.
Qualified applicants will receive consideration for employment without regard to race, color, national origin, ancestry, religion, sex, pregnancy, sexual orientation, gender identity or gender expression, age, disability, military or veteran status, height, weight, familial or marital status, or genetics.
Equal Opportunity Employer/Drug-Free Workplace
Job ID 61528 Date posted 11/23/2021
Apply Now
Apply Later
Trending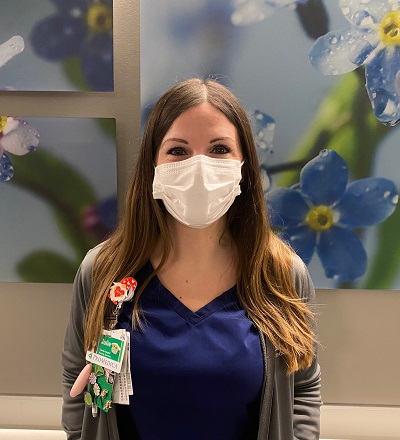 I joined ProMedica in 2014, right after I finished nursing school. I've always wanted to become a nurse, I enjoy the feeling of making people feel safe and caring for them. Nursing is about being there for someone when they feel alone and holding their hand when they are scared. It was easy to choose PROMEDICA due to the residency program that I heard wonderful things about. The residency helped guide me into becoming a confident nurse. I started on the orthopedic floor where I have learned so much from my wonderful work family! I've done many different things within the hospital setting, such as becoming an EPIC superuser where I even went in Coldwater to help with their go-live. I was part of the skin team, served on a Nursing grand rounds forum. In July I was crossed trained to the Adult ICU, it was something I thought would be a wonderful experience, I've meet a great group of people that I enjoyed training and working with when needed. ~Julie
Recently
Viewed Jobs
You haven't viewed any jobs recently
My Saved Jobs
You have no saved jobs.