Psychiatric School Nurse - Sylvania Schools - Full Time
Sylvania, Ohio
Overview
The Registered Nurse provides nursing care to individuals and groups which require specialized knowledge, judgment, and skill derived from the principles of biological, physical, behavioral, social, spiritual/cultural, and nursing sciences. The Registered Nurse functions within the full scope of nursing practice as noted by the Board of Nursing of their designated state for which they are practicing in addition to compliance with any of the hospitals accrediting bodies.
Success Profile
Who is the ideal Promedica employee? We're looking for people to join our team who are motivated by making an impact and doing meaningful work.
Responsible 10
Critical thinker 9
Compassionate 9
Communicator 9
Adaptable 9
Multi-tasker 8
Traits are on a scale of
0
to
10
Additional success profiles:
Detail oriented,
Flexible,
Helpful,
Patient,
Responsible,
Sincere,
Understanding
Benefits
Professional
Growth

Retirement &
Savings Plan

Innovative
Training Programs

Tuition Assistance

Career Stability

Comprehensive Health
Coverage
Job Requirements
POSITION SUMMARY
Provide direct care and case management services to assigned students in the school setting. This includes but is not limited to care of students with identified mental health needs, crisis situations, injuries as of self-inflicted behaviors, acute and chronic mental health management for students with special health care needs. Meet the preventative and chronic health needs of students' through relationship development, health promotion, education, and counseling. 
ACCOUNTABILITIES    
Assessment and treatment within the scope of professional nursing practice taking into consideration on-going mental health needs.
Act as Liaison between school personnel, school resource officer, family, health care professionals and the community through communication with parents/guardians of students, appropriate school personnel, physicians, and advanced practice providers as needed.
Uses positive therapeutic interpersonal skills in identifying and meeting the psychosocial needs of the students.
Understands and identifies cultural/personal values of student/family and promotes relationships of trust/respect.
Care of the student takes into consideration the students developmental capabilities, family dynamics and psychological processes.
Collaborates with other mental health care providers to assure coordinated care delivery, and positive outcomes. Provides feedback on students functioning in the school setting.
Education of mental health care needs with students, parents, teachers, and other school personnel. 
Screening for suicidality, drug and/or alcohol abuse or other high-risk behaviors that would place the student's safety at risk and require immediate intervention.
Psychiatric medication monitoring in collaboration with the prescribing provider. 
Development of individualized safety plans for students identified as high risk for suicide or self-injurious behaviors.
Utilization of trauma informed care approach with students identifying adverse childhood experiences (ACES) impacting behavior, risk factors and protective factors to promote healthy outcomes.
Promote healthy school environment through education and participation with other teams and committees.
Leadership role for mental health policies and programs. Coordination of school mental health programs, school mental wellness policies, crisis/disaster management, psychiatric emergency medical condition management, mental health protection and intervention.
May also function as School Nurse when location or situation deems necessary; providing routine and urgent medical care to general and/or medically fragile student population as needed.
Education: Associate degree in Nursing from an accredited college
Skills:
Effective communication skills, both verbal and written to work productively with children, families, physicians, therapists and other mental health providers.
Thorough knowledge of nursing skills with commitment to working with children.
Must have critical thinking skills in order to interact effectively during interactions under stressful situations.
Ability to de-escalate crisis situations.
Must have a clear understanding of trauma informed care and experience in using this approach in the clinical setting.
Flexibility, organization, decision-making and problem solving skills. Interpersonal skills with diverse populations' in-person and on the telephone.
Ability to coordinate with others.
Ability to interpret and implement policies and procedural directives. Valid driver's license. 
Years of Experience: 3 years of experience in nursing is preferred, preferably in an inpatient pediatric/adult psychiatric setting, or outpatient mental health setting.  
License: Active Registered Nurse licensure in the state of Ohio.
PREFERRED QUALIFICATIONS
Education: BSN
Certification: Nationally Certified School Nurse (NCSN), Non-Violent Crisis Intervention.
Skills: CBT or DBT training/education
WORKING CONDITIONS
Physical Demands: Requires full range of body motion. Speaking and hearing is essential in the role of instructing and teaching. Visual acuity required working with instruments, records, and education curriculum. Requires lifting and carrying items at times up to 30 lbs., bending, stooping, pushing, and pulling. 
ProMedica is a mission-based, not-for-profit integrated healthcare organizational headquartered in Toledo, Ohio.  For more information, please visit www.promedica.org/about-promedica
Qualified applicants will receive consideration for employment without regard to race, color, national origin, ancestry, religion, sex/gender (including pregnancy), sexual orientation, gender identity or gender expression, age, physical or mental disability, military or protected veteran status, citizenship, familial or marital status, genetics, or any other legally protected category. In compliance with the Americans with Disabilities Act Amendment Act (ADAAA), if you have a disability and would like to request an accommodation in order to apply for a job with ProMedica, please contact employment@promedica.org
Equal Opportunity Employer/Drug-Free Workplace
Job ID 60629 Date posted 10/11/2021
Apply Now
Apply Later
Trending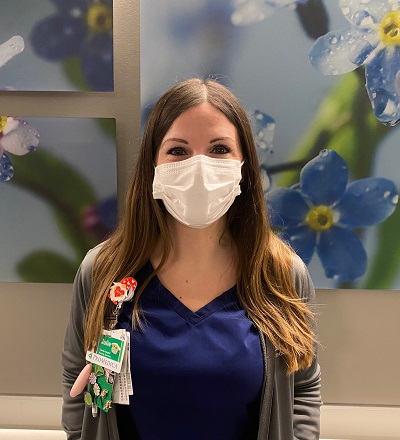 I joined ProMedica in 2014, right after I finished nursing school. I've always wanted to become a nurse, I enjoy the feeling of making people feel safe and caring for them. Nursing is about being there for someone when they feel alone and holding their hand when they are scared. It was easy to choose PROMEDICA due to the residency program that I heard wonderful things about. The residency helped guide me into becoming a confident nurse. I started on the orthopedic floor where I have learned so much from my wonderful work family! I've done many different things within the hospital setting, such as becoming an EPIC superuser where I even went in Coldwater to help with their go-live. I was part of the skin team, served on a Nursing grand rounds forum. In July I was crossed trained to the Adult ICU, it was something I thought would be a wonderful experience, I've meet a great group of people that I enjoyed training and working with when needed. ~Julie
Recently
Viewed Jobs
You haven't viewed any jobs recently
My Saved Jobs
You have no saved jobs.