MT / MLT / Medical Technologist II - Monroe Regional Hospital - Per Diem - Variable
Monroe, Michigan
Overview
Medical technologists, also known as clinical laboratory technologists, perform routine and complex analytical procedures, recognize deviations and provide interpretation following established standards and practices. These highly trained professionals use sophisticated procedures and equipment, collaborating with nurses, physicians and other healthcare professionals.
Success Profile
Functioning as a team member within a patient-centric care delivery model for high quality and service within the practice setting. Able to navigate through multiple information technology platforms and applications proficiently and effectively. Renders direct patient care services under supervision, demonstrating ProMedica's values to the patient.
Achiever 10
Relationship expertise 9
Independent 9
Problem solver 9
Quick thinking 9
Focused 8
Traits are on a scale of
0
to
10
Additional success profiles:
Detail oriented,
Flexible,
Helpful,
Patient,
Responsible,
Sincere,
Understanding
Benefits
Professional
Growth

Retirement &
Savings Plan

Innovative
Training Programs

Tuition Assistance

Career Stability

Comprehensive Health
Coverage
Job Requirements
Performs routine and complex analytical procedures, recognizes deviations and provides interpretation following established standards and practices, under minimal supervision.
Primary Duties: 
Operates instruments and performs procedures within scope of training, utilizing established protocols.  Performs scheduled maintenance procedures. Recognizes equipment malfunctions and acts according to established protocols.
Performs, records, and maintains accurate quality control records. Recognizes out of control results and takes appropriate actions.
Answers inquiries regarding results and factors affecting results. Interacts with health care team, maintaining patient confidentiality. Acts as a liaison and fosters effective communication between laboratory and health care team. 
Performs routine inquiry and data input on the laboratory computer system.
Instructs new employees and students as required. Presents educational information to employees as requested.
Processes biological specimens for analysis following established procedures. Evaluates and solves problems related to specimen collection and processing
Maintains established hospital and departmental policies and procedures, objectives, quality assurance, safety, environmental and infection control. Complies with requirements of accreditation and regulatory agencies by attending mandatory in-services and continuing laboratory education and participating in continuous quality improvement. Maintains and upgrades personal development.
Drafts and review procedures. Participate in new method evaluation as requested
Acts as a team leader as assigned, by establishing and completing objectives. May direct the scheduling and completion of all activities. May instruct, assign work and provide guidance to co-workers in the absence of supervisory personnel.
Performs other duties as directed.
Must have Bachelor's degree or in final semester of an accredited MT/MLS Bachelor degree program. (must provide degree within 6 months of hire) Must have MT/MLS (ASCP) OR an appropriate categorical ASCP registry OR be eligible to achieve MT/MLS (ASCP) registry (must complete registration within one year of hire). Requires previous clinical experience. Must fulfill all requisite criteria for Medical Technologist I, unless grandfathered prior to 1987.
Must be able to move continuously about hospital and between workstations; and prolonged periods of standing.
Must be able to understand directions and be able to communicate and respond to inquiries; requires effective interpersonal skills.
Must be able to tolerate exposure to disease bearing specimens, odorous chemicals, carcinogens, mutagens, low-level radiation, electrical hazards and flammable liquids.
Must be able to differentiate colors.
Must be able to occasionally move, lift and/or carry lightweight materials and equipment weighing up to 50 pounds up to 5% of the time.
Must be able to input and retrieve information from computer.

ProMedica is a mission-based, not-for-profit integrated healthcare organization headquartered in Toledo, Ohio. It serves communities in 30 states. The organization offers acute and ambulatory care, an insurance company with a dental plan, and post-acute and academic business lines. The organization has more than 70,000 employees, 13 hospitals, 2,700 physicians and advanced practice providers with privileges, 900+ healthcare providers employed by ProMedica Physicians, a health plan, and 450 assisted living facilities, skilled nursing and rehabilitation centers, memory care communities, outpatient rehabilitation clinics, and hospice and home health care agencies. Driven by its Mission to improve your health and well-being, ProMedica has been nationally recognized for its advocacy programs and efforts to address social determinants of health. 
Qualified applicants will receive consideration for employment without regard to race, color, national origin, ancestry, religion, sex, pregnancy, sexual orientation, gender identity or gender expression,  age, disability, military or veteran status, height, weight, familial or marital status, or genetics.
Equal Opportunity Employer/Drug-Free Workplace
Job ID 49309 Date posted 11/16/2020
Apply Now
Apply Later
Trending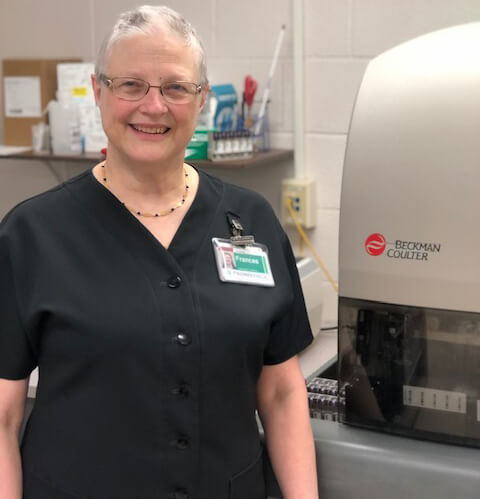 What I like the most about being a Medical Technologist is the fact that you have continuous mental stimulation since you never know what will come your way every day. The nice part of being in the ProMedica network is that if questions arise, there are many resources to look to for answers, you're never alone with a problem. - Frances
Recently
Viewed Jobs
You haven't viewed any jobs recently
My Saved Jobs
You have no saved jobs.