RN Appeals Coordinator - Utilization Review- Paramount - Full Time - Days
Maumee, Ohio
Overview
The Registered Nurse provides nursing care to individuals and groups which require specialized knowledge, judgment, and skill derived from the principles of biological, physical, behavioral, social, spiritual/cultural, and nursing sciences. The Registered Nurse functions within the full scope of nursing practice as noted by the Board of Nursing of their designated state for which they are practicing in addition to compliance with any of the hospitals accrediting bodies.
Success Profile
Who is the ideal Promedica employee? We're looking for people to join our team who are motivated by making an impact and doing meaningful work.
Responsible 10
Critical thinker 9
Compassionate 9
Communicator 9
Adaptable 9
Multi-tasker 8
Traits are on a scale of
0
to
10
Additional success profiles:
Detail oriented,
Flexible,
Helpful,
Patient,
Responsible,
Sincere,
Understanding
Benefits
Professional
Growth

Retirement &
Savings Plan

Innovative
Training Programs

Tuition Assistance

Career Stability

Comprehensive Health
Coverage
Job Requirements
At Paramount Health Care, we offer insurance to both large and small groups and also cater to Medicare (Paramount Elite) subscribers in northwest Ohio and southeast Michigan. Our Medicaid product (Paramount Advantage) services those living in the state of Ohio. We maintain an accreditation by the NCQA – the National Committee for Quality Assurance – for our Ohio HMO, Elite and Advantage products. We're also part of ProMedica, which is ranked the second most integrated health system in the U.S. and No. 1 in the Midwest. For more information about Paramount, please visit our website http://www.paramounthealthcare.com.
This position is responsible for the medical necessity reviews specific to in-patient sepsis, emergency room claims, air ambulance claims, and other initiatives that require medical chart reviews with the objective of proper leveling for claims payment. The position also processes appeals based on requests from providers.
ACCOUNTABILITIES
1. Complete initial medical necessity reviews specific to inpatient Sepsis, emergency room professional levels, air ambulance, and other initiatives for proper leveling per medical policy for claims payment in which denials must be forwarded to a Medical Director to make a final determination. Process provider appeals based on the request from the provider as indicated on the Clinical Appeals Form.
2. Work collaboratively with Claims, Provider Relations, and other departments to ensure appeals are processed timely and in accordance with regulatory requirements.
3. Facilitate Medical Director review/appeal determination as necessary / communicate in writing and in accordance with regulatory guidance the appeal outcome.
4. Prepare monthly reports by recording and analyzing data for Appeals/UM Leadership outlining appeals statistics, and identifying trends and opportunities for UM cost savings, staff education, and provider education. 
5. Monitor appeals related to ODM, CMS, ODI, and NCQA compliance indicators, and facilitate team processes for compliance.
6. Collaborate with the Utilization/Case Management Compliance Coordinator to assure compliance for timely provider appeals processing and monitoring.
7. Assist in establishing methods to improve the clinical efficiency and quality of services and in reducing vulnerability to fraud, abuse, and waste.
8. Draft and maintain up-to-date departmental appeals procedures
REQUIRED QUALIFICATIONS
Education: Registered Nurse licensure required
Years of Experience: Three (3) years' experience in a health care setting or managed care organization. Familiarity with health care operations and health care regulatory environment.
License: OH RN license. Obtain Michigan and Indiana licensure within 90-days of hire.
PREFERRED QUALIFICATIONS
Education: Bachelors' degree in Nursing
Skills: LEAN and/or Six Sigma training; excellent interpersonal skills and the ability to work with individuals at all levels of the organization, proficient with Microsoft Office applications (including Word, Excel, and PowerPoint).
Years of Experience: 5 years of experience
License: RN/BSN
Certification: N/A
 
Job ID 61875 Date posted 12/01/2021
Apply Now
Apply Later
Trending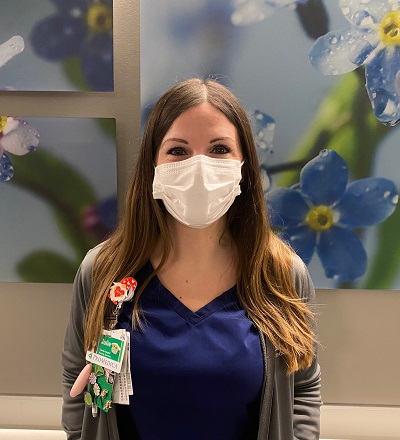 I joined ProMedica in 2014, right after I finished nursing school. I've always wanted to become a nurse, I enjoy the feeling of making people feel safe and caring for them. Nursing is about being there for someone when they feel alone and holding their hand when they are scared. It was easy to choose PROMEDICA due to the residency program that I heard wonderful things about. The residency helped guide me into becoming a confident nurse. I started on the orthopedic floor where I have learned so much from my wonderful work family! I've done many different things within the hospital setting, such as becoming an EPIC superuser where I even went in Coldwater to help with their go-live. I was part of the skin team, served on a Nursing grand rounds forum. In July I was crossed trained to the Adult ICU, it was something I thought would be a wonderful experience, I've meet a great group of people that I enjoyed training and working with when needed. ~Julie
Recently
Viewed Jobs
You haven't viewed any jobs recently
My Saved Jobs
You have no saved jobs.