RN Case Manager - Paramount HMS - Full Time - Days
Youngstown, Ohio; Maumee, Ohio; Toledo, Ohio; Cleveland, Ohio; Columbus, Ohio
Overview
The Registered Nurse provides nursing care to individuals and groups which require specialized knowledge, judgment, and skill derived from the principles of biological, physical, behavioral, social, spiritual/cultural, and nursing sciences. The Registered Nurse functions within the full scope of nursing practice as noted by the Board of Nursing of their designated state for which they are practicing in addition to compliance with any of the hospitals accrediting bodies.
Success Profile
Who is the ideal Promedica employee? We're looking for people to join our team who are motivated by making an impact and doing meaningful work.
Responsible 10
Critical thinker 9
Compassionate 9
Communicator 9
Adaptable 9
Multi-tasker 8
Traits are on a scale of
0
to
10
Additional success profiles:
Detail oriented,
Flexible,
Helpful,
Patient,
Responsible,
Sincere,
Understanding
Benefits
Professional
Growth

Retirement &
Savings Plan

Innovative
Training Programs

Tuition Assistance

Career Stability

Comprehensive Health
Coverage
Job Requirements
At Paramount Health Care, we offer insurance to both large and small groups and also cater to Medicare (Paramount Elite) subscribers in northwest Ohio and southeast Michigan. Our Medicaid product (Paramount Advantage) services those living in the state of Ohio. We maintain an accreditation by the NCQA – the National Committee for Quality Assurance – for our Ohio HMO, Elite and Advantage products. We're also part of ProMedica, which is ranked the second most integrated health system in the U.S. and No. 1 in the Midwest. For more information about Paramount, please visit our website http://www.paramounthealthcare.com.
Essential Duties and Responsibilities:
•    To communicate with injured workers [IW], employers, providers, third party administrators, attorneys and the Ohio Bureau of Worker's Compensation [BWC] in order to obtain a safe RTW while meeting or exceeding Measure of Disability [MOD] benchmarks.
•    To adhere to all HMS policies, especially Confidentiality.
•    To process C-9 Treatment Requests within applicable program timeframes in order to provide the IW with the treatment medically necessary and appropriate for the allowed conditions.
•    To staff C-9 Treatment Requests with the Medical Director as needed.
•    To coordinate with the Catastrophic Nurse Case Manager to medically manage life care plans for catastrophic claims. 
•    To follow up with providers to obtain current treatment plans, results of diagnostics and RTW goals.
•    To obtain modified duty availability from employers and restrictions from providers.
•    To identify IWs who are potential vocational rehabilitation candidates and complete the referral process.
•    To coordinate with the Vocational Rehabilitation Coordinator to medically manage care plans for vocational rehabilitation claims. 
•    To serve as a resource for staffing of difficult cases. To establish workflows and priorities for the team as needed. This includes delegating duties to claims examiners and administrative assistants on the team in order to meet expectations and guidelines.
•    To be responsible for following the applicable program guidelines for appropriate medical management of claims.
•    To participate in educational and informational seminars as needed.
•    To accept other duties that may be assigned.
Supervisory Responsibilities
•    Accountable for the case management process.  Supervises all members of the Team, which includes:
•    Reviewing caseloads of Claims examiners and staffing individual claims when necessary
•    Monitoring medical management of Claims examiners, including initial assessment, development of treatment plans, identification of additional diagnosis, MOD, RTW for modified duties and/or RTW with full duty, case closures and follow-up.
•    Monitoring C-9 Treatment Request activity for timeliness and appropriateness
•    Monitoring diaries for timeliness and completeness
•    Establishing workflow and priorities for the team
•    Monitoring identification of cases needing transferred to the next level of medical/case management.
•    Providing information to the supervisors for non-clinical personnel regarding their performance on assigned case management duties. 
Professional Competencies
•    Practices case management within the scope of their licensure as defined by the Ohio and/or West Virginia State Board of Nursing.
•    Has working knowledge of workers' compensation and case management
•    Has good telephone skills
•    Has the ability to set priorities and organize
•    Works well as a team member
•    Has good interpersonal skills
•    Has good writing and grammar skills
•    Has the ability to manage multiple projects
•    Has good computer skills
 
Professional Qualifications:
An active license to practice nursing in the state of Ohio, and, as applicable a West Virginia or other state (verification is required before job position can be offered). The license must allow the Case Manager to conduct an assessment independently as permitted within the scope of their licensure based on the standards of the discipline.  
HMS requires all nurse case managers to have at least one of the following:
•    Certification as a case manager from the URAC-approved list of certifications; or 
•    A bachelor (or higher) degree in a health or human services related field; or 
•    A registered nurse (RN) license.
HMS requires that case managers obtain advanced certification in one of the following URAC recognized certifications approved within four years of date of hire (RNs employed prior to policy implementation on 01/01/12 have four years from that date to obtain advanced certification):
•    CCM – Certified Case Manager
•    CDMS – Certified Disability Management Specialist
•    CMAC—Case Management Administrator, Certified
•    CMC – Case Management Certified
•    CRC – Certified Rehabilitation Counselor
•    CRRN – Certified Registered Rehabilitation Nurse
•    COHN—Certified Occupational Health Nurse
•    COHN –S – Certified Occupational Health Nurse- Specialist
•    RN-BC- Registered Nurse Case Manager
•    ACM—Accredited Case Manager
Experience:
HMS prefers all nurse case managers to have the equivalent of two (2) full-time years providing direct clinical care to consumers.
ProMedica is a mission-based, not-for-profit integrated healthcare organization headquartered in Toledo, Ohio.  For more information, please visit www.promedica.org/about-promedica
Qualified applicants will receive consideration for employment without regard to race, color, national origin, ancestry, religion, sex/gender (including pregnancy), sexual orientation, gender identity or gender expression, age, physical or mental disability, military or protected veteran status, citizenship, familial or marital status, genetics, or any other legally protected category. In compliance with the Americans with Disabilities Act Amendment Act (ADAAA), if you have a disability and would like to request an accommodation in order to apply for a job with ProMedica, please contact employment@promedica.org
Equal Opportunity Employer/Drug-Free Workplace
Job ID 61957 Date posted 12/03/2021
Apply Now
Apply Later
Trending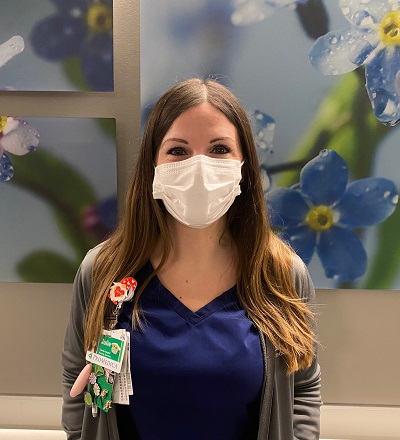 I joined ProMedica in 2014, right after I finished nursing school. I've always wanted to become a nurse, I enjoy the feeling of making people feel safe and caring for them. Nursing is about being there for someone when they feel alone and holding their hand when they are scared. It was easy to choose PROMEDICA due to the residency program that I heard wonderful things about. The residency helped guide me into becoming a confident nurse. I started on the orthopedic floor where I have learned so much from my wonderful work family! I've done many different things within the hospital setting, such as becoming an EPIC superuser where I even went in Coldwater to help with their go-live. I was part of the skin team, served on a Nursing grand rounds forum. In July I was crossed trained to the Adult ICU, it was something I thought would be a wonderful experience, I've meet a great group of people that I enjoyed training and working with when needed. ~Julie
Recently
Viewed Jobs
You haven't viewed any jobs recently
My Saved Jobs
You have no saved jobs.