RN / Registered Nurse - Home Care - Lenawee County - Full time
Carleton, Michigan; Dundee, Michigan; Lambertville, Michigan; Temperance, Michigan; Newport, Michigan; La Salle, Michigan; Luna Pier, Michigan; Milan, Michigan; Ida, Michigan; Petersburg, Michigan; Erie, Michigan; Rockwood, Michigan
Overview
The Registered Nurse provides nursing care to individuals and groups which require specialized knowledge, judgment, and skill derived from the principles of biological, physical, behavioral, social, spiritual/cultural, and nursing sciences. The Registered Nurse functions within the full scope of nursing practice as noted by the Board of Nursing of their designated state for which they are practicing in addition to compliance with any of the hospitals accrediting bodies.
Success Profile
Who is the ideal Promedica employee? We're looking for people to join our team who are motivated by making an impact and doing meaningful work.
Responsible 10
Critical thinker 9
Compassionate 9
Communicator 9
Adaptable 9
Multi-tasker 8
Traits are on a scale of
0
to
10
Additional success profiles:
Detail oriented,
Flexible,
Helpful,
Patient,
Responsible,
Sincere,
Understanding
Benefits
Professional
Growth

Retirement &
Savings Plan

Innovative
Training Programs

Tuition Assistance

Career Stability

Comprehensive Health
Coverage
Job Requirements
*$10,000 Sign On Bonus- Full Time Field RN's - External Candidate Only
Position Summary:
Responsible to the Director of Professional Services, Patient Care Coordinator to provide nursing care and case management to patients and families. Implements nursing interventions and coordinates the patient/family interdisciplinary plan of care. Supervises personnel to deliver care and coordinates care delivery.
General Responsibilities
Manages a patient and family caseload which includes assessing, planning, implementation, evaluating and documenting the care provided.
Plans, coordinates and delivers nursing care to patients and families.
Supervises and documents home health aide/licensed practical nurse plans of care and documents supervisory visits.
Participates in on-call coverage.
Submits paperwork in a timely manner and updates and maintains patient medical records.
Participates in regularly scheduled interdisciplinary team meetings to coordinate the care of the patient and family, exchange information and problem solve, and receive staff support and education.
Applies the policies and procedures of the agency and the rules and regulations of Federal and State regulatory agencies and other certifying agencies in providing care.
Coordinates and develops patient/family plan of care and ensures the care plan is current, up to date and reviewed at every team meeting.
Assesses & evaluates patients level of care, needs and requirements.</li>
Participates in agency quality assessment performance improvement (QAPI) programs.
Ensure growth & profitability of the company through the responsible use of company resources and educating the community to our services.</li>
Assesses the patient's response to the Plan of Care and recommends changes as needed.
Meets or exceeds established productivity standards.
Provides education to the patient/family regarding the disease process, self care techniques, prevention strategies, rehab nursing procedures and community resources for discharge planning
Initial and ongoing comprehensive assessment of patient's needs including Outcome and Assessment Set (OASIS) at appropriate time sets.
Evaluating Outcomes of Care.
Provide counseling to patient/family regarding disease process, end of life and ethical issues.
Willingly accepts direction from Director of Professional Services/PCC.
Participates in community programs and committees, as requested.
Supervises LPN/LVNs, home health aides and paraprofessionals providing services to the patient according to regulatory guidelines.
Monitors that documentation from LPN/LVN, home health aides are complete.
Participates in in-service programs
Assesses the ability of the caregiver to meet the patient's needs at admission and throughout care.
Evaluates patient/family response to care on an on-going basis. Communicates information using current process and technology available to the organization
Ensures that employees are adequately oriented and trained to assignment; assists and encourages employees in developing their skills and self-confidence.
Initiates appropriate preventive and rehabilitative nursing procedures. Prepares clinical progress notes that demonstrate progress towards goals. Coordinates patient/family services and prioritization of needs with members of the interdisciplinary team. Uses case management approach and refers to other services as needed. Informs the physician and other personnel of changes in the patient's needs and outcomes of intervention. Determines scope and frequency of services needed based on acuity and patient/family need.
Adheres to established personnel policies.
Accepts other assignments deemed appropriate.
Education
Currently licensed as a Registered Nurse (RN) in the state and in good standing with the Board in which he/she will practice.
Qualifications
Ability to manage patient care with specific knowledge and experience in bedside nursing, symptom management, crisis intervention and family intervention.
Ability to work well with an interdisciplinary team.
Excellent written and verbal communication skills.
Demonstrate problem solving and decision making abilities.
Ability to develop and maintain rapport with the patient and family.
Experience
A minimum of 6 months institutional nursing experience within the past 3 years, unless state regulations differ. The Director of Professional Services or Administrator may waive this experience requirement based upon a personal interview.
Registered Nurses providing skilled intervention for PASSPORT patients must have 2 years experience as an RN.
Physical Demands
Lifting 50 pounds maximum with frequent lifting and or carrying of objects weighing up to 25 pounds; Walking, standing, talking, hearing, pushing, fingering, reaching, seeing, stooping, smelling, depth perception, color vision, driving
Travel
Necessary on a daily basis; 100%.
Working Conditions
Patient's home/living facilities.
Exposure to disagreeable conditions including odors, infection, illness, and physical contact from disruptive patients.
ProMedica is a mission-based, not-for-profit integrated healthcare organization headquartered in Toledo, Ohio.  For more information, please visit www.promedica.org/about-promedica
Qualified applicants will receive consideration for employment without regard to race, color, national origin, ancestry, religion, sex/gender (including pregnancy), sexual orientation, gender identity or gender expression, age, physical or mental disability, military or protected veteran status, citizenship, familial or marital status, genetics, or any other legally protected category. In compliance with the Americans with Disabilities Act Amendment Act (ADAAA), if you have a disability and would like to request an accommodation in order to apply for a job with ProMedica, please contact employment@promedica.org
Equal Opportunity Employer/Drug-Free Workplace
Job ID 58383 Date posted 01/03/2022
Apply Now
Apply Later
Trending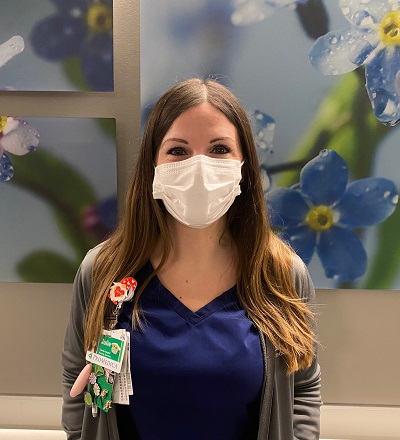 I joined ProMedica in 2014, right after I finished nursing school. I've always wanted to become a nurse, I enjoy the feeling of making people feel safe and caring for them. Nursing is about being there for someone when they feel alone and holding their hand when they are scared. It was easy to choose PROMEDICA due to the residency program that I heard wonderful things about. The residency helped guide me into becoming a confident nurse. I started on the orthopedic floor where I have learned so much from my wonderful work family! I've done many different things within the hospital setting, such as becoming an EPIC superuser where I even went in Coldwater to help with their go-live. I was part of the skin team, served on a Nursing grand rounds forum. In July I was crossed trained to the Adult ICU, it was something I thought would be a wonderful experience, I've met a great group of people that I enjoyed training and working with when needed. ~Julie
Recently
Viewed Jobs
You haven't viewed any jobs recently
My Saved Jobs
You have no saved jobs.